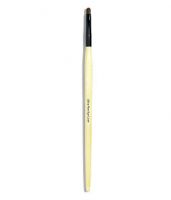 Bobbi Brown's Gel Liner and Brush Are the Perfect Marriage

If you know how I feel about Bobbi's gel eyeliner, then you will know how I feel about her gel brush. The gel and gel brush are a perfect marriage. For the shaky-handed gal, you might want to find a similar brush with a shorter handle or choke up a bit on this one.

Best Liner brush

I have several eyeliner brush and a couple of artist's paint brushes that I use for eyeliner but this one is the one I use the most. I use Bobbi Brown's Gel Eyeliner and this is perfect for applying my liner. I can line my water line, create winged looks and smudgy looks too. A must have for any makeup geek!

get the most out of your brush!

the precision and ease of this brush just cant be beat! to make your brush last longer, after each use pinch out the remaining product (gel liner) with a baby wipe! this will make your brush really last and postpone the bristles from curling outwards. with that said, 20$ for this brush is a little much but it is easier to work with than most eyeliner brushes.

Back
to top