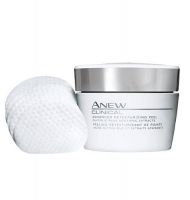 Great

Saw this on a talk show and it was highly recommened. I agree, strips away dead skin nicely leaving fresh soft new skin. I would use it every other night or a couple times a week to start. Pretty powerful, don't want to much irritation

SD Alcohol 40

I saw some reviews for this product and was really intrigued. I normally am so good about checking ingredients before I purchase a product, but in this case I purchased 2 containers while on sale for $15 each on the Avon website. Well, unfortunately, this product has SD Alcohol 40 as the 4th ingredient (rubbing alcohol). I actually didn't realize that until I was just about done with the first con...read moretainer. I had to stop using it; I was disappointed, but honestly, I really didn't see a big difference. The first few times I used it, my skin really burned and tingled (AKA irritation!). Tingling, burning, menthol, peppermint, or any essential oils or fragrance, are not actually beneficial for any skincare product. The reality is that alcohol breaks down collagen in the skin and is an irritant. Often times skin can be irritated even under the surface where we can't "see" it such as the case with damaging collagen with alcohol. For this reason, I would not suggest this product to ANYONE. There are other exfoliants out there that provide healthy ingredients, antioxidants etc. I don't want to pay for this down the road so I stopped using it, and tossed the second container.

great starter peel

if youre new to peels this ones a great place to start, you dont have to worry about the timing or the dosing, and you dont need a seperate neutralizer. so theres no real risk. its good enough that youll see a difference in your texture too, as long as you dont have too sensitive skin and you dont wax or tan back to back with this!

Back
to top