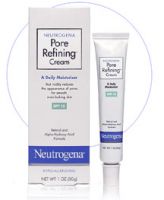 don't see a change

i've been using this for the past week and haven't noticed a reduction in pore size

Convinced It's Awesome

Moisturizer, no matter what was in it that I've used in the past has made my skin oily, break out, cause it to turn red, and irritate my skin. This is hard to find but I usually can find it at WalMart, however, no so often at Target for unknown reasons. I apply it and it does smooth out the texture of my skin, after a few days, my acne blemishes were gone, my face less red, and I noticed my skin...read more glow. Even in the winter where my skin can get pretty dull, it becomes radiant after this use. It can be used as a primer to make pores minimal and it makes makeup look more flawless over this without making it look too built up. This has no benzoyl peroxide or salycilic acid in it so for those who suffer irritation and see no improvement can give this a try and it has been effective for me. It makes my skin look better.

Neutrogena

Works to reduce my large pores. Great value for the money.

Back
to top