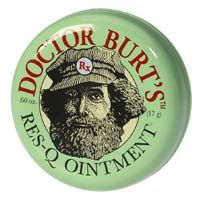 wonderful stuff

I use this on cuts, scratches, and broken blisters. It helps to heal them quickly and doesn't irritate the healthy skin around it.

A nice alternative

I'm not sure how effective this is on bruising, but it does work on minor skin irritations, like an insect bite or a minor rash. Wouldn't trade it in for my Bengay or Neosporin though!

Soothing

This is a nice ointment for soothing bug bites and minor scrapes. Some people will want the tingle of some insect bite soothers, but this one is very mild. It is full of natural ingredients so I don't worry about slathering it on. I've had one pot for over two years so if you only use it for bites and scrapes it should last a long time. The tiny tin is also great for throwing into a backpack f...read moreor hikes. I don't know if it really helped with the healing of my various scrapes, cuts and burns but it felt nice having it on.

Back
to top