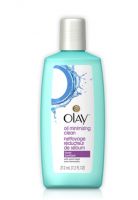 Slowly Likely It

At first I really didn't like using this product, although it's affordable, I didn't think it compared at all to the Clinique 3 Oily Skin Clarifying Lotion that I lend to my boyfriend. Keep in mind, even though this Olay Oil Minimizing Toner is cheaper than the Clinique counterpart, it is also a lot less (212 ml for Olay versus 400 ml for the Clinique) Although, even taking size into consideration...read more, this Olay oil minizing toner is still way more affordable! The first thing I noticed about this toner was that it was a lot stronger scented, so much that I really disliked using the product at first. Eventually, I did overcome disliking the scent and grew to like the product more and more especially given how effective it was in cleaning my face. The product description says it tones by removing dirt, oil and make-up without stripping skin's essential moisture. The directions say to moisten a clean cotton ball with Olay Oil Minimizing Toner and wipe face and neck. I actually like usually a flat cotton pad, and feel like that works better in cleaning my face and neck and I actually like going down my lower back too. There is a slight tingly feeling to the face and then I apply moisturizer afterwards. I think this product is a great alternative to those who do not wish to splurge on the Clinique Clarifying Lotion (Toner). I think it does a beautiful job removing dirt and makeup, and I'm really glad to continue using it despite originally hating the scent. However, I do wish it had a more pleasant scent, than I would probably give this product all ten stars. I'm guessing it's the witch hazel scent that I smell but witch hazel is also in the Clinique product. I would recommend this as a starter toner.

Great, when I can find it!

I used to use this regularly, but over a year ago I started having trouble finding it at any of my local stores. It deep cleaned my skin and helped prevent breakouts. It has a nice scent and never left my skin with that dry, tight feeling or feeling irritated like some toners. I've been using a different toner recently, but if I can find this again, I'll switch back!

Not too harsh!

I really like this toner. I have used everything from expensive department store brands to Sea-Breeze, and this is by far my favorite. It has witch hazel in it which really helps cut down on redness. It leaves my skin feeling clean and refreshed without too much tingle, and definitely no stinging! I have noticed tighter pores and better looking skin since I started using it.

Back
to top