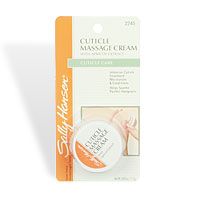 Editor's Rating & Review
Granted, your nails will look and feel post-manicure soft after rubbing in this conditioning cream. The problem is, it's not lasting. You have to use it daily or your cuticles completely dry up again. And we're crying foul on the claim that massaging this product into your nail bed increases circulation and stimulates nail growth. You could rub peanut butter into your nails and technically get the same conditioning, stimulating results.
Reviewed by Kristen on 09/25/2007

How we review products
Good for your nails

Makes cuticles soft. They don't peel if you use aleast twice a day. Smells great. I think it makes my nails grow faster. Good price

Amazing Cuticle cream

A must for your cuticles. I love the healing aid this adds to my cuticles.

Best I have used!!

This was the first cuticle cream I had ever used and my favorite. It smells delightful and works wonders.. It keeps me from getting hangnails and I NEVER get soft, ripped cuticles while using this.

Back
to top