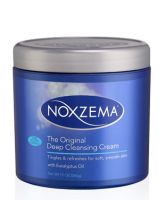 A Proven Cleanser Over the Years!

There is always a tub of Noxzema's "Original Deep Cleansing Cream" in my bathroom. Why? I enjoy the feel of the satiny emulsion on my hands as much as I do on my face! Camphor helps gives it the refreshing smell and tingling sensation, but other ingredients include Linseed and Soybean Oils, but it also has Eucalyptus Leaf Oil and Baking Soda! I find that it removes makeup well, although I don'...read moret use it around my eyes, and it leaves me feeling invigorated, my complexion hydrated and comforted.

Noxzema

This has worked on and off for me for a number of years. I've used it for awhile with good resullts, but then my skin would start breaking out. I do like the tingling sensation and the consistency, but it was inconsistent with how it affected my skin.

Like It!

Yes, I still like this cleanser. It just feels so good on my face. Very cooling and refreshing. Like one of the products you want to use to relax and just be pampered and refreshed.

Back
to top