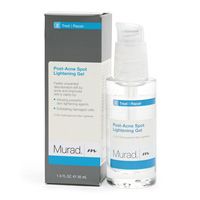 Save your money

I tried this product and noticed little change to my acne scars. I had much better results from a $9.99 tube of Sudden Change Scar Zone cream - that faded my acne scars much more quickly, and the price is so much better

Lighten Up!

Let's just admit it ladies – we get acne, we "fuss" with our blemishes and then we get scaring. Sad but true. In an ideal world, we would allow our blemishes to work themselves out but we cannot help to do things that we think will speed up the healing process and we are just left with the consequences. :-( So what's a girl to do? I am here to tell you that there is a fantastic solut...read moreion to getting rid of those acne scars fast! It is what I call the miracle working formula of Murad's Post-Acne Spot Lightening Gel. I had some stubborn scaring from hormonal acne and after a week of using this product, I could see the scaring clearing up and within three weeks, it was gone. This product is safe enough to apply daily and does not dry out your skin. There is a bit of an odor to the product but it's a small price to pay to get rid of those scars. This gel also evens out skin tone by exfoliating damaged cells and alleviates irritation and inflammation. I love when products multi-task! If you struggle with scaring post-acne, I highly, highly recommend this product!

Exclusively from the editors at Total Beauty

Get the Buying Guide to see these top-rated products!

Get it now »

Expensive but worth it!

When I first bought Murad anti-aging acne products for my skin, I decided against purchasing this item because of its price tag. A month later, I was seeing some good results from the Murad skincare I'd purchased... so I decided to give this a try. I saw results the very next day. This seems to not only diminish the appearance of breakouts that are healing and old acne scars, but it also seems ...read moreto help prevent new breakouts. Yes, it's $60, but you only need it at night, and one bottle lasts a very long time. I use it nightly, and after a month I'm about a quarter of the way through the bottle.

Back
to top