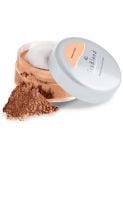 Not Good!

I bought two different shades, threw both of them away. Made me look ghostly and powedery like a baby's bottom. Not cool!

Shiny!

I have super oily skin, and this just made me even more shiny. Within minutes of leaving my house, my face would get shiny and for some reason its like my face produced even more oily when using this product. Didnt like it at all, regret buying this product. Only thing i liked is that it blended easily with my skin tone.

Good make-up "top-coat"

This really isn't anything impressive but its a cheap alternative to other mineral products and I can't put anything on my face thats not natural. Usually I use it over foundation to keep it in place and get a matte look. When I have a lazy day I just do a quick layer of this, concealer and ready to go.