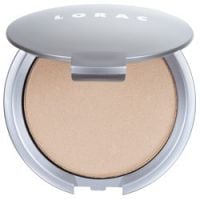 Editor's Rating & Review
Similar to Lancome Photogenic sheer pressed powder, this smooth finishing powder is designed to light up the face and detract attention from flaws by bouncing light off skin -- a must before photo ops. (The mirrored compact and thin, round applicator come in handy on the fly.) The handful of sheer, shimmery shades adapt to most skin tones. Use it to accentuate bone structure, but for those with mature skin, too much can highlight deep lines.
Reviewed by Charli on 09/26/2007

How we review products
I love this!

This is the best highlighter I have ever tried. It adds a natural healthy glow o you skin with out any weird over sparkly shimmer. It looks like hydrated skin with a beautiful light.

Good

It is good

Gorgeous Highlighter

This is my all around favorite highlighter. It adds the perfect amount of sheen without going overboard. One of my biggest problems with other highlighters I have is that they are either too over the top to wear to work or too understated to wear out and be sexy. But I can wear this highlighter on all occasions and be appropriate and still pretty. I also love that this isn't glittery and ladies of all ages can wear it. Seriously go out and buy it now!

Back
to top