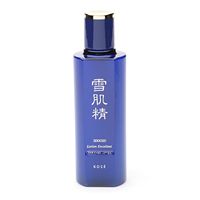 I like it but...

for some reason I really like this product. It hasn't made my skin any brighter in spite of using it twice daily but I have to say I enjoy using it. At $60 a bottle, though, I think I'll finish this one off and remember it with fondness! Twice daily for two months and no results don't make it worth the $ in my book.

One of the best

The product did everything and more for my face. It really has brighten and evened my skin tone. It smells wonderful as well has hydrating my face without breaking me out. I do recommend trying this on the pop-out mask in Awake. The price however is out the like most brightening products, though I suck it up every time to buy it. I wish it would be given more credit for its excellent line but most people see the writing and walk away not knowing how and what the products for.

Great Product

This lotion (in Japan, 'lotion' is the equivalent of a softening lotion here in the U.S., this is not an astringent or toner) is effective in brightening the skin with both immediate and long-term effects. I use this year round and the large-sized bottle last more than a year. I apply this after cleansing the skin. I pour a dollop amount onto my palm and rub my palms lightly then press against my ...read moreface, chin, neck and decolletage. The routine is so refreshing. The immediate 'brightening' is marvelous.

Back
to top