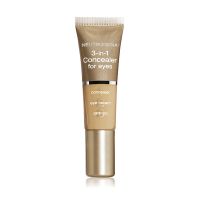 Editor's Rating & Review
Two out of three isn't bad. This concealer covers dark circles and fine lines (if you pile it on) and protects with SPF 20, but doesn't reduce puffiness as it claims. If that's a concern, you're better off trying a treatment product like Origins No Puffery. Further redeeming itself, the concealer lasts all day without settling, blends easily and works as an eye shadow base and blemish cover up. Unfortunately, color selection is limited to lighter shades.
Reviewed by Sarah on 12/18/2007

How we review products
works for me!

i agrree with the not reducing puffiness but it did even out the tone around my eyes making them look brighter.

better than average

I suppose this is an OK concealer. I find that it is only mediocre at covering my dark circles. I like that it does not cake in my lines around my eyes, and it is not irritating.

Unreal claims.

It promise too much, but it is just a good concealer. Conceals well but is not 3 in 1 wonderful.

Back
to top