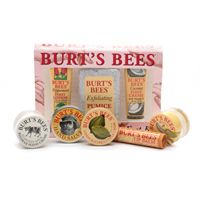 Love these kits

For an all natural solution to a great travel kit, I always like the burt's bee's brand. Their lotions with the beeswax protects your skin even when wet. The banana lotion smells great and I am not a huge banana lover. The cuticle balm is terrific and I love the lemon scent. Used regularly it really leaves your cuticles in great condition. The pumice stone is ok for a natural way to smooth calluse...read mores, but I find that sometimes they leave lines in the skin (like scratches). The foot lotions they make are terrific, especially when paired with nice cotton socks. I also always have the regular lip balm on hand. I love the minty coolness and the beeswax formula keeps my lips from drying out as I sleep at night. Overall, I highly recommend this kit or any of their kits. The sizes are perfect for your purse of travel.

Great Kit

I like everything that comes in this kit. Its so convenient and I think its a great gift to give to your friends. The price is not bad, and its a good way to test the products out before you buy the actual sizes.

Great gift set

This is a great gift set for a mani/pedi addict. The products included range from fine to great. It comes with a pumice stone or a pair of socks which aren't really special, the coconut foot cream is amazing as well as a tube of lip balm which Burt's does well generally. The lemon cuticle cream is also nice with an awesome scent. The hand creams are really moisturizing but can be a bit heavy s...read moreo should be worn at night. Overall this is a good set for learning about the Burt's lines, but if you are a regular user of Burt's you may want to buy the full size articles.

Back
to top