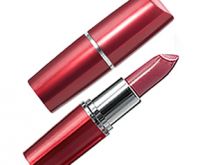 Mmm

First off this to me smells a lot like watermelon at first, I don't know why, but I love it. This lip color does on smooth and bold, it packs on a great shade and is easy to apply. It does come off a little at first but the color lasts for a while which is good enough for me! It's easy to take off but won't leave your lips looking dry, it actually does moisturize quite well and it's smooth and comfortable. The lipstick isn't too expensive either and is really a great product.

nice

bright and sheer, the colors i have in this lipstick are vibrant, while still letting my own lip color show thru. they are shiny, and smell great, and feel really good on. they are fair priced and easy to find, but they wear off instantly and get on everything and everyone you touch your mouth to. the red tube is a femme bonus.

Great buy for the price

I'm very particular about the fragrance of products that go on my lips, especially being an Asian. I love this delicious, but not sweet, watermelon fragrance. Sugared plum is the best shade because it's a nudy pink color that is so anti-aging. It's not perly but not matte since it shines and moisturizes just perfectly. It doesn't wear all day, but who cares, when you can look forward to reapply with that delicious scent? Thank goodness for the affordable price!

Back
to top