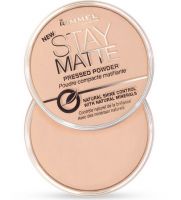 amazing!!

LOVE this powder. It applies really easily with a kabuki brush and it really does keep my skin matte. I love the way it smooths on over my concealer and tinted moisturizer and leaves no cakey spots at all.

Just as Good as Clinique Sty Mtte!

Very suprised by this powder! For the past year I've been using my Clinique Stay Matte Pressed Powder and that works fine it's just that it makes my face look really dull and chalky and I prefer a more smooth textured powder and Clinique's isn't silky feeling when applied. Plus I find that it only lasted me about 2 months before I had nothing but pebbles left. This is absolutely amazing!!! Feels s...read moreo nice, light and silky and I'm able to get it for about $3.99! Such an amazing steal considering Clinique's powder is $24 where I live.

love the pro look

i like that you can get a serious looking pancake at a drugstore [btw, sniff y ou later revv]. i hate those little all in one mirrored compact things that come with the nasty cheap poof. theyre a disaster waiting to happen. this powder is a good value and very basic as you can buy three of them and still be ahead on the dept store setting powder and no one will be able to tell the difference. very...read more matte finish, reasonably lasting shine control[5 hours on my forehead, lol, thats a TEST] and the translucent shade doesnt interfere with any other makeup color.

Back
to top