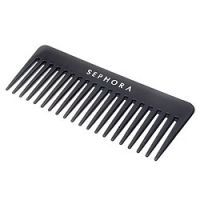 Sephora Wide Tooth Comb
As low as
Slinky Sleek With a Happy Ending

It's more than just an ordinary comb, it's a great way to tame a messy mane without damaging it so much. Stylists usually have to remind me not to brush my long hair so much because split ends will dominate and I'll end up looking like a lion with so much frizz because brushes take a toll on hair strength. I bought one of these at an inexpensive four dollars and found that my hair looked smoothe...read morer and more healthier over time just by using a wide toothed comb in replacement of a brush but round brushes are great for volumizing so I still need one regardless. This comb is durable and was able to survive a few chewing sessions with a toddler running around the house unlike my other combs that are missing teeth and are bent out of shape. The rounded teeth are easier on the scalp because sharper edges tend to scratch and irritate me. It's nifty how one little tool can do so much good.

Great Detangler

This is the perfect comb if you have thick curly hair. I use it to gently detangle my hair after I shampoo it. The teeth are smooth and wide so there is no pulling. Great for applying conditioner and working it through your hair.

Back
to top