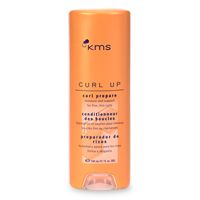 KMS

THIS ITEM WORKED TERRIBLY ON MY HAIR! The perm I had didn't even take.

In Love

This leaves my hair shinny, frizzless, and give my curls weightless bounce. I really only need to use a quarter sized portion and my hair is down my back. Great product!

KMS Curl up really works with no flaking or stickiness!

I LOVE this product, have tried to find a better one by trying a million other types but I keep going back to Curl Up. My hair is naturally wavy and Curl Up makes it even better...