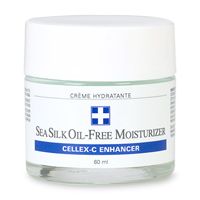 Amazing Moisturizer.

I love this product. The Silk oil free moisturizer is a great balance for your skin. Doesn't cause breakouts and hydrates your skin. This is a great product.

Pricey but worth it

Athough I dont agree with the fact that it's like 50$, it is DEFINITELY WORTH IT especially for sensitive and acne prone or oily skin types. This moisturizer goes on almost as a gel type serum it is cooling, feels great on the skin and is not greasy AT ALL. It will last you awhile as its very spreadable and does not require a lot to use daily. The only downside really is the price.

Highly Recommended Moisturizer

This moisturizer works very well...thanks to my aesthetician for introducing this to me.. oh it works well with the CELLEX-C GENTLE FOAMING CLEANSER...it's so nice.

Back
to top