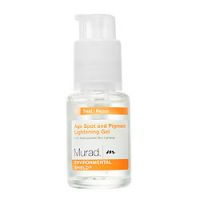 face treatment

i love the murad treatments because they are all water-based. you can use this in the morning if you missed your antioxidant treatments in your twenties (and spent a little too much time in the sun). prevention is the best cure, murad makes an antioxidant treatment which will help prevent future pigmentation from forming. (as will sunscreen and stayin out of the sun).

The War Between Murad Lightening Gel And My Age Spots

I have been fighting the age spot war for a while. I have had the tenacious little spots lasered off but they keep popping back up. While in Sephora before leaving on a trip, my favorite Sephora girl gave me a sample of Murad's lightening gel. She said it was so powerful that it lightened her freckles. So I thought, "Age spots beware. Murad is now in my cache of ammunitions" I have ...read morebeen using the lightening gel every night before I go to bed, and lo and behold, the pesky spots are slowly but surely disappearing. This is cheaper than laser and seems like a good long-term fix. Murad definitely wins this war. I have added a sunscreen with Mexoryl to make sure that the skin on my hand is shielded and doesn't add any more "freckles." I will rate this an 8, only because the jury is still out. I haven't used it long enough to see if it will fade the spots to oblivion.

Umm

I have been using this RELIGIOUSLY for almost a year. I have been very patient. My old age spots have been fading, however, should I be developing new age spots? I think it's time to try something else.