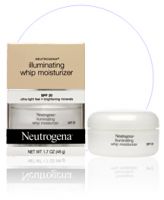 Editor's Rating & Review
Before you apply, prepare yourself. You're about to be seriously illuminated. The amount of mica in this daytime SPF 20 moisturizer is intense -- as in, glittery. I was nervous walking into the office, thinking co-workers would liken me to a disco ball. But after applying foundation and powder on top, it didn't seem <i>so</i> sparkly. It's definitely a dry-skin friendly product, since it adds the glow you crave while protecting your skin from the sun.
Reviewed by Kristen on 09/25/2007

How we review products
love the whipped feeling

nice to apply, keeps skin soft and nice

Lights, camera, action!

This definityly ILLUMINATES! Use sparingly if you aren't going to add make-up over it, as it is more like a high-lighter. Great consistancy, though.

What were they thinking?

If it wasn't for the glitter, I'd have given it the highest rating. Since it has an SPF, it is apparently meant only for daytime use. But it is too obvious, even with makeup over it. I like the scent and whipped, rich texture. I've been loyal to Neutrogena for 30 years, since high school, but they've missed the boat on this one. I don't want to throw it out, so I use it on my legs where it is less obvious. I'm almost embarrassed to be seen in the sun in it!

Back
to top