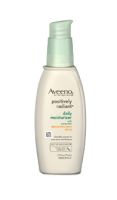 A Basic Skin Moisturizer--That's It

Last year, I was having a hard time finding a moisturizer which wasn't too heavy under makeup. I saw lots of press for Aveeno®'s "Positively Radiant™ Daily Moisturizer." For about $13.00, the price was reasonable. I loved the fact that it has an SPF factor of 15 to protect precious skin from UVA/UVB rays. I was also impressed that this is oil-free, hypoallergenic, and noncomedogenic. Aveen...read moreo® claims that natural light diffusers go to work to naturally even out skin's texture and tone and immediately reflect light, drawing attention away from imperfections and giving a new radiance. Yes, it does absorb into your complexion quickly and well. There are some softening benefits. Aside from that, there was no change in the texture, tone, or radiance. I am annoyed at the hype around this moisturizer, especially when products like Ole Henriksen's "Sheer Transformation" do impart a glow, brighten skin, and create a definitely noticeable clarity. I would not purchase this again.

Okay, good sun protection

It offers good sun protection; I live in Arizona and 9 months of the year the sun is unbearable. I don't feel the sun burning my skin with this. It's creamy and it absorbs well, but it's a bit thick. It doesn't do well to change the texture and tone like it says, I've been using the positively radiant line for a couple years and no notable changes have occurred. Sometimes when I get dry skin spell...read mores, it doesn't keep my skin completely moisturized, even with frequent use. I often I have to supplement with an ultra-hydrating cream at night to treat my skin.

Good Basic Moisturizer

I kept everything in my skin routine the same except I switched out my typical Aveeno Daily Moisturizing Lotion with this. I like this moisturizer much more, this is lighter and feels less tacky. I also like that it has SPF since none of the other products in my skin routine have SPF (I know I should really use sunscreen). When it says radiant, it really means radiant. I don't really mind it but i...read moret makes my skin look really oily. It is kinda good since I have combination skin, so my dry spots gets a bit of moisture but the oily spots stay oily. I have been using this product for about two weeks, I think there have been improvements in my skin. While the changes might not be very visible, my face definitely feels better. On days I do not use this product, I can tell the difference because my skin gets very dry. I would use this product again.

Back
to top