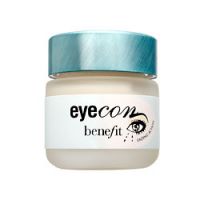 Editor's Rating & Review
Benefit Eyecon supposedly fades dark circles with orange extract and softens lines with apple extract. In reality, it temporarily makes the skin under eyes look a little brighter (the formula's shimmering white color seems to help most), but doesn't seem to do much else. After a month, I counted on it to soften shadows, but my dependence on concealer never waned. For slight shadows, use this as a quick fix but for long-term help with dark circles, keep looking.
Reviewed by Sarah on 07/08/2008

How we review products
Works well

Be careful not to get to close to the lash line works good, but can sting. Pricey for the small container.

Benefit Eyecon

Does this product help with under eye circles? No not really, nor did it firm or smooth my lines. It also burnt my under eye area. I wasn't at all impressed with this product, and I don't find it worth the money. I also prefer my eye products in a tube, less contamination. I won't be buying this product again.

Doesn't live up to claims

I got this product as a deluxe sample and wasn't impressed. It did nothing for the minor darkness at my inner eyes nor did it have any impact on the skin around my eyes. This product made my skin feel like it needed another moisturizer. My skin felt somewhat dry when I woke up in the mornings. Another downside was that it somewhat burned the outer corners of my eyes and under eye area. I'm glad this was a deluxe sample because I wouldn't want to buy this product.

Back
to top