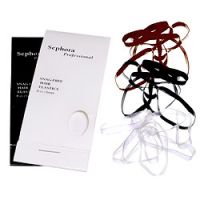 Small but mighty

For under $5, how can you lose? I use these hair ties when I'm working out because I can make a tight ponytail that absolutely will not move. I have what could fairly be called dirty blonde hair, and I love that the clear ones pretty much disappear. When I'm feeling slightly more ambitious than a regular ponytail, I do the old "wrap a strand of hair around the elastic" trick. Because these are so ...read morethin, they're easy to cover. They do stretch out over time, but they won't just snap on you. If you have thick hair, I would definitely recommend these, because they do not give up without a fight! I also like the packaging. I am, admittedly, a brown hair band on the wrist kind of girl (not exactly the most professional look). You can slip this little package in any purse pocket or even a wallet to always keep them with you. Best of all, while these are capable of pulling hair, if you take your time rolling them out there will be no snags or pain.

Perfection!

I have A LOT of hair but it is very, very thin, and these are amazing. They truly do not snag at all, and they keep your hair nicely in place, even in a high ponytail. They also come in clear, brownish, and black, which is a nice touch.

Great!

I needed to tie my hair back. My girlfriend gave me a Sephora snag-free hair elastic. I was skeptical at first, but now I am not. Works great. Doesn't pull out my hair. I can wear it all day, without a problem.