Tips on Getting Rid of Dandruff
Posted on December 4, 2009, 1:41 PM
One of the more embarrassing results of winter is dry scalp that may result in dandruff. Luckily, Allure Magazine is offering tips of how to rid your hair of the problem.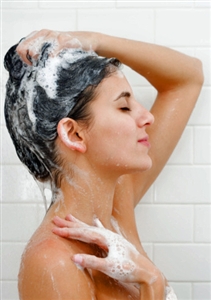 Using medicated shampoos such as Head and Shoulders may help
First, it's a good idea to alternate shampoos. The beauty magazine suggests using one that prevents dandruff from spreading, like Head and Shoulders shampoo, and one that has exfoliates will help end the problem quickly. It's also a good idea to leave the shampoo on your scalp for a minute or so, letting it work into your hair before rinsing it out.
If you also suffer from dry hair, Allure recommends using the medicated shampoos for your scalp and then washing it out. Next, use a moisturizing shampoo for the rest of your hair, as medicated shampoos tend to dry it out.
After a month of trying these remedies, if you still don't see improvement you may want to consider consulting a dermatologist.
While you're waiting for the condition to subside, you might want to try adding extra volume to your hair and staying away from flatirons, as straight hair only highlights the problem.