Leighton Meester's Outlandish Makeup Showcases Her Gorgeous Skin Tone
Posted on December 23, 2009, 2:16 PM
Sometimes, less is more. As mentioned before, "Gossip Girl" star Leighton Meester has been experimenting with her look while out and about recently, opting for bold colors and dramatic shadows.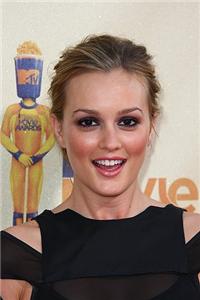 Despite heavy makeup, it's easy to tell Meester has a good complexion
At a recent performance with Robin Thicke at Butter nightclub, Meester, pictured here at a previous event with dramatic, dark eye makeup and heavy blush, sported heavy black liner and dramatic eyelashes, which she paired with ruby red lips.
Even though Meester's look was a little loud, it showed off the actress' flawless skin tone. While some actresses do their best to keep their tan, Meester proves that pale can be beautiful too.
To keep your skin at its best, it's always a good idea to invest in a facial moisturizer. For best results, skin care specialists recommend applying it both morning and night.
Sunscreen is also an important component to skin care, which is why a tinted moisturizer with SPF is a great choice for day. This one product will keep your skin protected and even out your complexion for a flawless glow.