Lindsay Lohan Needs Some Serious Anti-Aging Skin Care (To Go with Her Alcohol-Monitoring Bracelet)
Posted on May 24, 2010, 12:12 PM
Years of partying take their toll on the actress's skin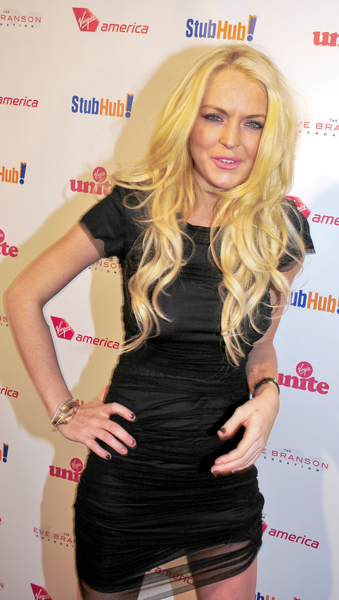 Lindsay Lohan Needs Some Serious Anti-Aging Skin Care (To Go with Her Alcohol-Monitoring Bracelet)
After a week of hearty partying (and apparent chaos) in Cannes, that included several questionable photos surfacing on the Internet, her passport getting stolen, a missed court date for a DUI probation case, and having to post $100,000 bail as a result, a haggard looking Lindsay Lohan touched down at LAX on Saturday evening and, by Sunday, was already pratlling off excuses to anyone who would listen on Hollywood.tv.
Guess that Marsha Revel, the judge in her case, didn't tune in because when LiLo arrived at the Beverly Hills court this morning (10 minutes late for an 8:30 hearing), she was told in no uncertain terms that if she wants to remain free on bail, she'll have to wear an alcohol monitoring bracelet, submit to random drug testing, attend alcohol education classes and remain in Los Angeles.
Citing pre-existing photo shoot conflicts and the Texas location of an upcoming film, Lindsay's attorney, Shawn Chapman Holley, tried to get Revel to reconsider the bracelet and the L.A. lockdown, but the judge wouldn't budge. "I'm afraid she'll have to delay that for now," Revel said.
Lindsay, dressed in a demure gray pants suit with a white oxford, didn't speak in the courtroom other than to say "Yes, your honor." Her hair is dark brown today and, wow, the girl may only be 23, but years of sun, smoking and, um, unhealthy life choices, have certainly taken their toll on her complexion. But, hey, here's a happy thought, since she's going to be holed up at home a lot over the coming months anyway, why not embark on anti aging skin care regimen to try and regain some of that fresh-faced "Parent Trap" glow we all fell in love with?
"When you're young, you think you're invincible. But with pale skin like Lindsay's, it just shows the damage that can be done at such a young age," plastic surgeon Alex Karidis told the San Francisco Gate. "Skin can deteriorate very quickly. She could reduce the lines by improving her lifestyle, but that would mean giving up the partying."
LiLo's behavior to this point wouldn't peg her as the "tonight I'm going to slip into my Snuggie and hole up on the couch with the new Candace Bushnell book and a pint of Chunky Monkey" kind of girl but, mellowing out and working on herself a bit would not only keep her alive and out of jail, but also help rejuvenate her look and lead to more work when this whole circus calms down.
As Lindsay is being fitted for her second SCRAM bracelet (she famously paired the first one with a teeny red bikini at her birthday party in 2007), there's no word from 'Inferno' producer, Wali Razaqi, about how this latest hiccup will impact production on the filming of his Linda Lovelace biopic. Lindsay was cast to play the famed porn star and had been in Cannes promoting the news. "We've all thought that Lindsay would be a great choice for a while now," Razaqi told the Los Angeles Times.
For now, the only "great choice" that Lindsay needs to make for herself is to remain drug/alcohol free and to attend the court ordered classes. Otherwise, Judge Revel will have her in an orange jumpsuit faster than she can say Paris Hilton.