Demi Moore Claims Laughter Prevents Wrinkles
Posted on April 13, 2010, 1:52 PM
Demi Moore may be 47 years old, but the lovely lady appears as fresh-faced and lovely as ever. But just how does the brunette beauty fend off the wrinkles?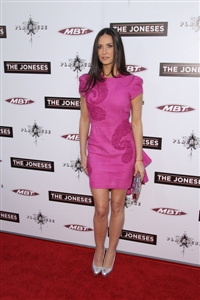 Demi Moore is wrinkle-free thanks to laughter!
Well, according to Moore, her flawless complexion doesn't require spending hours in the dermatologist's chair, or investing thousands in pricey treatments -- just a good laugh is all you need!
"I don't know if there is any particular secret [to staying youthful]," Moore said at a press conference for her new movie "The Joneses." "I think that laughter and smiling are one of the best antidotes to aging that you could possibly have."
If giggling all day keeps the
wrinkles
at bay, a funny hubby like Ashton Kutcher must be the fountain of youth!
And, hot on the heels of her anti-aging advice comes the news that Moore may soon be a mom again!
In an interview with the May issue of Elle in the UK, the actress, pictured here at the premiere, said that she and Kutcher have been talking about having a child together. "We talk about it and it's something that we would like," Moore told the publication.
And hey, why not? We're sure Demi will be radiant for years to come, because nothing puts a smile on someone's face like a baby!