Katy Perry's Acne Issues
Posted on July 14, 2010, 9:38 AM
The mulit-platinum singer has fame, fortune, a fiance -- and big skin problems. Is ProActiv not helping to provide clear skin?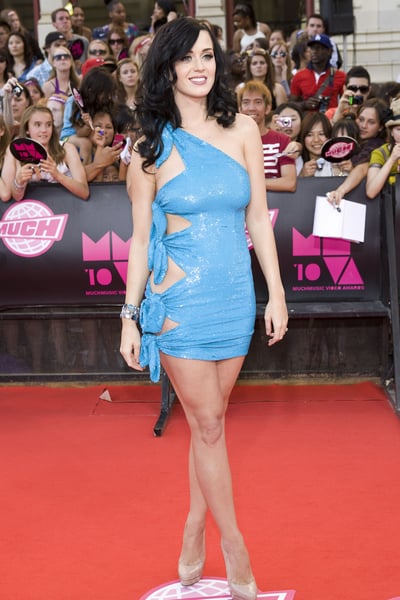 Say what you want about her skin, but Katy Perry's got a rocking body as she showed at last month's MuchMusic Awards
Katy Perry's life is pretty good right now. Her new single, "Californa Gurls," is a certified smash, she's just been (perfectly) cast in the upcoming "Smurfs" movie as, what else? Smurfette, and she's engaged to funny Brit, Russell Brand. The only bummer? Her acne that just won't seem to go away no matter how devoted she is to a
skin care
regimen.
Perry, was snapped by paparazzi with a spotted face on Monday in Los Angeles as she was heading to the gym with no make-up on and the resulting photos have tongues wagging about the state of her complexion.
Of course, the singer, like Jessica Simpson, Avril Lavigne, Mandy Moore, Alicia Keys and Julianne Hough (can you believe she and Ryan Seacrest are so hot and heavy?) is a spokesperson for Proactiv solution – the king of infomercial products that's purported to be a slamdunk in the acne-fighting arena. And, after snapping the pictures of her, the paps watched her head into the tony Ole Henriksen spa on the famed Sunset Strip. So, how is it that she still has such issues with her skin?
What's even further confounding is this
blog post
that Henriksen wrote back in November of '09. "I'm so pleased to announce that the talented Katy Perry, a client at my Hollywood spa, will be the host of the MTV Europe Music Awards for the second year in a row on Thursday, November 5. In honor of her success, I'm going to share with you how you can get skin as luminous as Katy's!" and he goes on to note the cleanser and crèmes the star uses.
For her part, Perry is understandably distraught about the situation telling Cosmopolitan magazine that she "got acne at the start of my career. It was a stressful time." She went on to say that " I have acne scars. I'm self-conscious about that, so sometimes I wear too much makeup to cover them up."
Surely, being under a microscope and having pix snapped of you in every state of dress (and undress) is stressful enough to wreak havoc with anyone's skin. And, really, who among us, looks great without makeup on and hasn't had pimple flare-ups before.
Naturally, Perry has access to the best dermatologists in the business and, if she's concerned about the state of her complexion, we're pretty sure that they're working on a solution. In the meantime, here's to hoping that when her record drops it's a huge hit so that the stress level drops a tad and she can concentrate on happier things – like planning her wedding.