The Best Places to Get a Haircut in Dallas
Posted on June 23, 2010, 6:00 AM
Why girls in Dallas have great hairstyles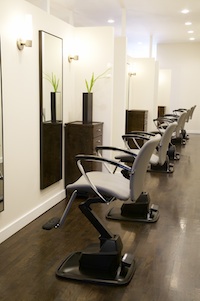 Salon Thirty Three in Dallas
You think Texas, you think big hair. Think again, friend: Texas is a darn large state (more like a country, actually, as the size alone spans more space than other major continents in the world), and along with that massive load of land comes a few cities that rank high on the list of fashion, style and beauty forwardness. Number one on the cities to see and be seen is none other than the Big D (Dallas, of course). Home to one of the most famous mansions, a hit TV show in the '80s, and Tony Romo's jinx of an ex-girlfriend (yes, Dallas pride runs true with Chicken of the Sea-made-famous singer/actress/reality star, Jessica Simpson), Big D boasts amazing, top-grade
hairstylists
too. We did some serious searching; here, unbeatable haircuts in Dallas – worth the plane fare alone.
Salon Three Thirty: We love a salon that focuses on natural hair texture and lifestyle; it's important, as you know, to how your end-result do will work, for you. Why we're worshipping Salon Three Thirty, which is owned and operated by two gurus in the biz (they have a combined total of more than 40 years of experience), and packs some big-time hair players in the south. The salon's sole focus is hair – cut, color, extensions, updos, straightening treatments. Located in the trendy, young uptown neighborhood, Salon Three Thirty is a landmark in the beauty world of Big D. Visit salonthreethirty.com to learn more about the talent.
Osgood O'Neil: Valet parking, check. Neck and shoulder massage, check. Punctual stylists, every time, check. This upscale salon is sleek, chic and uber sophisticated. Though it has multiple metro locations, Osgood O'Neil still boasts a shockingly exclusive (but non-intimidating) aura despite the chain thing. Around since the late '80s and still expanding and growing, kudos to the attentive staff and impeccable customer service, this salon is worth a visit. Cuts range from $55-$100, pending who you book with; visit osgoodoneil.com for more information.
Lisa Bennett Salon: A newbie to the Dallas scene, this salon has made a not-so-quiet, quick mark in the arena of all things hair. The owner, Lisa Bennett, is a star stylist with an expertise in color and cut; the staff she's employed is top notch and extremely well-studied, too. The experience you'll get, start to finish, is clean, slick and smooth. The salon exudes a minimalist feel with sleek lines and a simple setting. We're big fans of the approach: clients' needs and desires come first, period. For more information, visit www.lisabennettsalon.com.
Salon Pompeo: This full-service salon is a one-stop shop: you can get your lip waxed post pedicure, your back massaged pre facial – but our favorite aspect is the haircare at Salon Pompeo, which reigns superior to most head-to-toe salons in the area. Housing some of the top stylists in the city, Pompeo staffers are professional, precise and perfectly on trend. The best part: you can get a killer cut for just $45. Now, that's impressive; to learn more, visit http://salonpompeo.com.