The Best Dermatologists in Phoenix
Posted on July 14, 2010, 7:09 AM
Find a fabulous skin care specialist in the sunny, Phoenix area to get perfect clear skin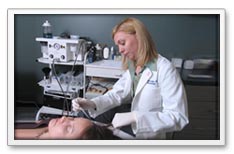 Dr Linder in Scottsdale
When you live in a city that boasts some stand-out sun year-round, finding a dermatologist should be on the short list, seriously. Because regardless of how much SPF you slather and lather, having your skin checked (at least once a year) for unusual marks, spots (translation: sun damage) is uber necessary. Being diligent and devoted to a dermatologist can keep your skin in stellar health and overall
body care
in the best of shape. Derms are top dogs in the beautifying arena. Here, some of the best in the Phoenix area.
State-of-the-art technology mixes with some great skin know-how and awesome bedside manner at Dr. Gary A McCracken's office (North Scottsdale Dermatology & Skin Spa); see the doc for everything from acne to scars, sun concerns to rashes – plus, check out his in-office spa for treatments and indulgent TLC. Think of McCracken as a one-stop for everything
skin care
, head to toe. The result is a complexion that equals glowing perfection. We're big fans of his personal, comfortable personality, as well as that the staff is informative, attentive and patient.
Looking for a lady derm who has her way with needles (think: Botox), fillers (Juvaderm, for example), and a massive boatload of complexion-clarifying advice? Then seek advice from Dr. Jennifer Linder, a dermatologist and MOHS skin cancer surgeon, on CamelBack Road. She's great with injectables, check, so you can stay forever young (realistically), but even better when it comes to skin cancer prevention, treatment and aide. Warts, acne, rashes, moles: annoying, indeed. Aggravating, you bet. Treatable, yes ma'am. Enter Omni Dermatology and Dr. Andrew J. Racette, a young, fresh and fabulous Phoenix derm with a specialty in skin diseases, including eczema, psoriasis, hidradenitis suppurative and others. Dr. Racette also uses the latest in laser scanning miscroscopy to evaluate moles; he is one of the original researchers in the US to further develop the melanoma detection. Dr. Racette, although a general dermatologist by trade, is also an incredible cosmetic derm expert. Bottom line: he's amazing to have on speed dial.
Scottsdale &Phoenix Dermatology is a group with one priority: to maintain patients' health through the most advanced dermatological techniques. The derms in this practice focus on wrinkles, radiance and youth – things important to most women, Phoenix and Philly alike. But beyond the what-you-see stuff, the dermatologists take skin very seriously, offering the most reliable products, equipment and science to keep complexions in killer condition.