Is Your Perfume Totally Wrong for Your Personality?
Find out which fragrance fits you and your style best
There are two ways to find the perfect perfume: You could go to 100 stores and try a million different scents until you find one you love -- or you could simply take this quiz. We'll help you determine what type of fragrance will appeal to you based on your lifestyle, likes and loves. Answer the following questions to find out what your signature scent should really be.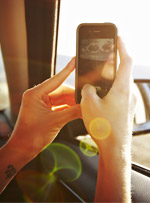 Question 1 of 8
Close your eyes and picture your ideal location. Where are you?