Nails
15 Hacks to Make Nail Polish Last Longer
Get more wear out of your nail polish with these tips for long-lasting color
If you've ever had a fresh manicure chip, you've probably wondered how to make nail polish last longer. There are steps you can take to help both DIY and professional nail jobs last for weeks. Check out these 15 tips for how to make nail polish last longer.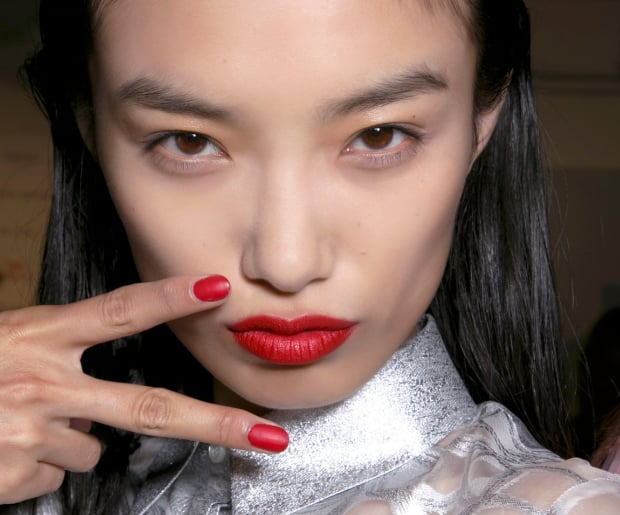 Image via Imaxtree

Use Strengthener Between Polishes
Healthy nails hold polish longer. A strengthening product can help repair nail damage to keep them from peeling or breaking. Try
O.P.I. Nail Envy Nail Strengthener
, $18.
Apply Remover
Even if your nails are already bare, go over them with a swipe of nail polish remover such as
Ulta Regular Instant Nail Polish Remover
, $3.99, before applying polish. This quick step removes natural oils from the nails. If your nails are weak or brittle, opt for a nourishing non-acetone remover that strengthens nails. We like
NCLA Take It Off
soy-based nail lacquer remover sheets, $19.
Skip the Soak
A water bath before a manicure will cause your nails to expand. When they dry and shrink, your polish will crack. Ask the salon to skip that step.
Use the Right Base
Not all base coats are created equal. Use a tacky one such as
CND Stickey Base Coat
, $8.50, to help the polish hold.
Roll the Bottle
Shaking a bottle of polish infuses the color with air bubbles, which lead to chips. Mix the polish by holding it upright and rolling it in your hands instead.
Avoid the Cuticles
Keep the polish from touching your cuticles because color applied there is more likely to peel away than polish applied directly to the nail.
Polish the Edges
Pull the brush around the edges of your nails to coat them. This adds a protective layer to your tips.
Use Thin Coats
Thicker coats of polish don't dry with as much strength as thin ones. Apply your nail polish in thin strokes and add additional coats as needed for smooth, full coverage.
Wait Between Coats
If your polish isn't completely dry before you add the next layer, it may peel off. Wait at least two minutes between each coat.
Take Two With the Lamp
If you are having your nails done at the salon, stick your hand back under the UV light for extra strength. If you're going to try this trick for how to make nail polish last longer, lather up your hands with sunscreen before your appointment.
Wear Gloves
Housework can do a number on your nails, so wear gloves while doing tough or wet jobs like washing dishes.
Hydrate Often
Dried-out polish is more likely to peel off of your nails. Use nail oil like
L'Occitane Shea Butter Nail & Cuticle Nourishing Oil
, $20, at least once a day. Also use hand cream at least twice a day.
Use Hand Soap
Choose soap and water over hand sanitizer for washing hands because sanitizer is drying.
Buff Chips
Even when you try several tips for how to make nail polish last longer, small chips can inevitably appear. Gently filing down the tips of your fingernails can solve the problem.
Embellish
If you get a chip in a spot where it can't be buffed away, cover it up with some nail art like a stick-on rhinestone or an ombre design.