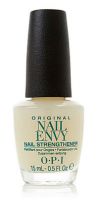 Stronger Nails

I really love this nail product because it makes my nails look healthier, grow longer and feel stronger. The nail strengthener is so easy to use and goes on in a thick coat under or over polish. It made my nails harder and stronger, and already they are growing longer faster.

The best nail strengthener

I love this! It makes my nails shiny and definitely stronger with every use. I don't like the matte because it doesn't provide the shine I love so much. The shine in the original formula makes your nails look healthier too. Definitely worth the price and I'd recommend following the instructions for the best results.

Pretty good ;)

I have used the whole range of products to try to help my brittle, chipping nails, and this one gets a B+. While I appreciate this one, I have found some nurishing creams that help better. I find that when you put polish on top of nails that are prone to chipping, it only enables them to chip easier. If I only had brittle nails, then yeah, great product, but with the chipping too, this product is just not for me. Price is decent. OPI is a great brand regardless.

Back
to top