Posted by Dawn Davis 04/08/13 at 11:44AM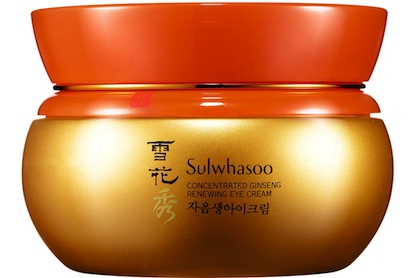 Back in the mid-90s, ginseng was the trendiest plant around. These days we have kale, but in 1994 everyone was wild for ginseng. The leaves, the stems, the infamous roots -- we loved them all. Ginseng would give you boundless energy; it might make you live longer. It was a miracle of Eastern medicine.

Fast-forward 19 years and I'm testing a tub of Sulwhasoo Concentrated Ginseng Renewing Eye Cream, $180. This eye cream is so potent -- and contains so much ginseng -- that it's banned in Japan. (And obviously that makes me like it more.) It's incredibly hydrating, and it smells so…herbal -- in the best way. After a particularly late night, I dabbed some on, and my dark circles looked better and the puffiness started to go down. The difference was so noticeable that I skipped concealer. Seriously. This stuff really is like an energy shot for your eyes.

Yes, it's pricey. But before you balk, know that it's the biggest container of eye cream I've ever owned. (The jar is about the size of a small apple.) And you only need a tiny amount -- it spreads beautifully, and, like I mentioned, it's potent.