Posted by Dawn Davis 04/01/13 at 08:10AM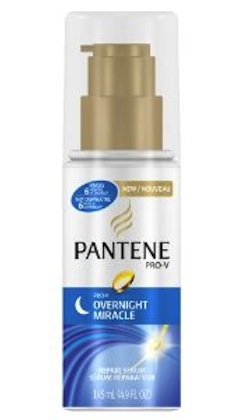 Have you ever taken a staycation? I never believed in the concept (I love my own bed too much) until this past weekend when I had the opportunity to stay in the Dream Hotel, which is about 10 blocks from my Manhattan apartment. My husband and dog came along, and we had a blast.

The best part? I tested a ton of new beauty products. There's something about a spacious, super-clean hotel bathroom that just begs for experimentation -- a great bathroom is to a beauty editor what a fancy kitchen is to a chef. So I locked myself in there for an hour and got to work. There were facemasks, and foot scrubs, and lotions galore. But the highlight was Pantene Pro-V Overnight Miracle Repair Serum, $5.99, which I slathered onto the ends of my hair before I went to sleep.

The serum is incredibly light, and my hair soaked it up quickly. It didn't transfer onto the high thread count hotel pillowcase, and in the morning my hair felt so, so soft. I think it even helped preserve my curls, which often flatten overnight.

Now, I have a new position on staycations (love them!), and another hair product to add to my routine.