Posted by Dawn Davis 04/22/13 at 04:54PM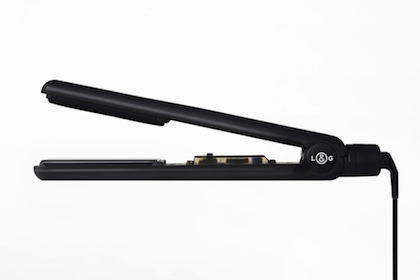 Years ago -- in a wavy-hair-is-cooler fit -- I tossed my collection of flat irons. And, to be honest, I haven't really missed them since.

Strange as it sounds, I think my husband does miss them. Whenever I come home from a salon with straightened hair, he goes on and on about it -- and this is a man who wouldn't notice if I wore turquoise lipstick.

So when I heard about the Ferrum Professional Styler, $189 -- an iron with a ceramic plate on one side and heat-resistant fabric on the other side -- I was intrigued. It's designed to leave your hair soft and shiny -- not brittle and crispy like other irons I've tried -- and the fabric makes it really east to put a natural-looking bend at the ends.

Since my straight-hair-loving husband was away this weekend, I decided to take home the iron and give try it on Sunday, a few hours before he got back. It was easy to use, didn't feel like it was frying my hair, and the packaging is really beautiful. Sure enough, the first thing Brandon said when he walked through the door was, "your hair looks so pretty!" (Forget "hi" or "I missed you.")

While I still prefer my hair wavy, the iron definitely gave me my best version of straight. I'm keeping it -- I think it'll come in handy for special occasions.