Posted by Dawn Davis 04/16/13 at 01:29PM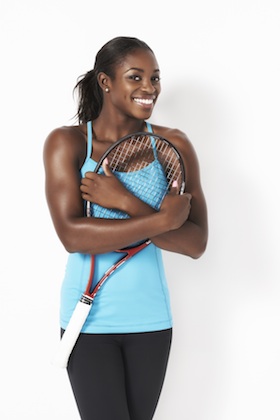 If you're anything like me, your phone is filled with photographs. And other than the occasional Instagram or Facebook upload, you probably don't do much with them. (Shameless plug: Follow TotalBeautyEditors on Instagram for fun beauty pics.)

But what if you could turn those unused photos into charitable donations? That's where tennis star Sloane Stephens comes in: She's partnering with J&J to support their Donate a Photo app. All you have to do is download the app, upload a photo, and pick your charity -- it's that simple. For each photo you donate, J&J will send a dollar to the charity of your choice.

"I just donated my first photo," Stephens said in an interview last week. "It's me in a helmet when I was five. It's a reminder to stay safe and avoid injury." Stephens is supporting Safe Kids Worldwide because April is National Youth Sports Safety Month.

You can use the app to scroll through all of the pictures that have been donated -- including the adorable pic of Stephens. And I'm hoping she shares more photos in the coming weeks -- beauty moments, perhaps?

When I spoke with her, I asked her about some of her favorite products. She said she doesn't wear makeup on the court, but she always applies sunscreen. "I use Neutrogena because it doesn't make me break out," she says. And she loves makeup from Bobbi Brown and MAC. Now, if only she'd share some photos of her favorite products in action. Hint, hint, Sloane!