Posted by Total Beauty 05/04/12 at 12:28PM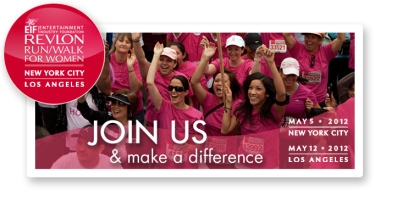 If you could use a little extra motivation in the exercise department, one of our favorite tips is to sign up for an event like a walk or run for charity. Once you've paid the entry fee and blocked off the time on your calendar, the odds of bailing at the last minute are significantly reduced.
Here's how to put that tip in action: One of the biggest exercise-meets-charity events of the year is happening this Saturday in New York City, and Saturday, May 12, in Los Angeles. It's the Entertainment Industry Foundation (EIF) Revlon Run/Walk for Women -- and if you're only going to do one of these, this is the one to do. The crowd is amazing, everything is extremely well organized, and there are opening ceremonies and a health expo at the end.
Since the walk started in 1994, more than $65 million has been raised for various cancer charities. And if that's not reason enough to participate, there are also celebrity hosts: Emma Stone, Olivia Wilde, and Halle Berry. The run/walk is a manageable 2.7 miles, and it's not a race -- you can go at your own pace. Reserve your spot now for $35 at
revlonrunwalk.org
, or enter day-of for $40.