Posted by Total Beauty 08/17/12 at 03:29PM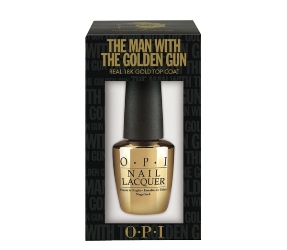 Now you really can have the Midus touch.
To celebrate the 50th anniversary of the James Bond franchise, OPI is launching a 18K gold-leaf top coat called "The Man with the Golden Gun." (That's the name of the 1974 Bond film, and yes, we're surprised OPI didn't name it after the more popular "Golden Eye" or the more apropos "Goldfinger" too.)
At $30 a bottle, getting a Bond girl-worthy mani doesn't come cheap. But the polish looks gorgeous, so it just might be worth the splurge.
The limited-edition lacquer comes out in October -- just in time to wear it to the newest 007 film "Skyfall," which comes out on November 9th.