Posted by Total Beauty 10/31/12 at 02:22PM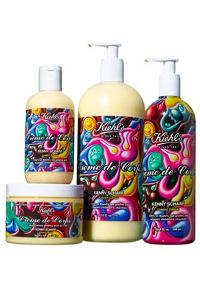 Every year we all look forward to the holiday beauty collections. Come November, companies start launching their prettiest packaging, best deals, and humongous palettes that are truly jaw-dropping.
While most of the time, buzz surrounds those mega makeup sets, I secretly get gleeful for one annual collaboration: Kiehl's limited edition Creme de Corps Holiday Collection. Each year the beloved skin care brand pairs with an iconic artist to create awesome vanity-worthy labels for their lotions and creams (this year it is with Kenny Scharf). The designs are fantastic, but the real reason I love this special collection is that 100 percent of the net profits go to RxArt, a non-profit charity that places original fine art in patient, procedure, and examination rooms. I like to consider this worthy cause just a bit of guilt-free motivation for splurging on myself during the holiday. Plus, let's be honest: scoring creme de corps means nabbing the best body lotion on the market -- just in time for winter.