Posted by Dawn Davis 03/29/13 at 11:55AM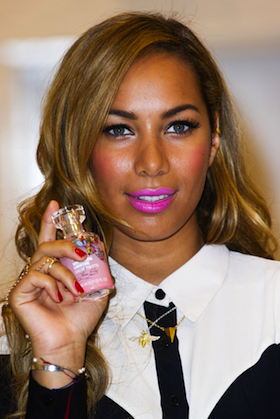 With Easter on Sunday, I've got bunnies on the brain. So I'm taking a moment to appreciate beauty brands that do their part to protect our furry friends (read: don't test on animals).

Singer and animal activist Leona Lewis is clearly with me. She teamed up with The Body Shop to create a limited edition beauty collection to benefit Cruelty Free International. There are two fragrances, four shades of lip gloss, two shimmer palettes, and a hot pink blush brush, it all comes in adorable animal-adorned packaging, and it arrives at select stores (and TheBodyShop-USA.com) on April 15.

The star stopped by a Body Shop store in London earlier this week to check out the products, and she looked gorgeous in a black and white outfit with a pop of color on her lips. (The eyelashes are fierce, as well -- and I'm sure they're synthetic.)

The best part of this collaboration is that it isn't just a one-off for The Body Shop -- it's part of their DNA as a brand. Even their fantastic makeup brushes -- which have been around since 1986 -- are cruelty free, and they work just as well (if not better) than brushes made with rabbit, squirrel, and mink. When I use them to put on my makeup on Sunday morning (I'll be wearing Lewis's shimmer palette, obviously) it'll be good to know that no bunnies -- Easter or otherwise -- were harmed.