Posted by Dawn Davis 05/10/13 at 11:44AM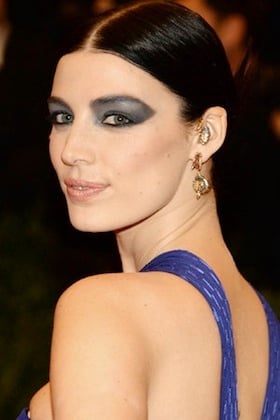 Monday night's Met Ball was a spectacle -- so much so that I'm still thinking about the red carpet looks five days later. Anne Hathaway and Nicole Richie both showed up with new hair colors (blonde and gray, respectively), and stars really pushed the envelope with the punk theme. Intense eyeliner was ubiquitous, but one eye look grabbed my attention more than the rest: Jessica Paré from "Mad Men."

Makeup artist Mai Quynh created this intense eye look using three Lancôme products: Color Design 5 Shadow & Liner Palette in Gris Fatale, Le Stylo Waterproof Eyeliner in Noir, and Hypsose Doll Lashes Mascara in So Black. The intense black liner faded into smoky charcoal shadow all the way up to the brows for a mask-like effect. The rest of her makeup was neutral, allowing the dramatic eye to be the focal point. Other celebs -- from Ginnifer Goodwin to January Jones -- attempted to pull off similar looks, but no one did it as well as Paré.