Posted by Total Beauty 10/11/12 at 10:22AM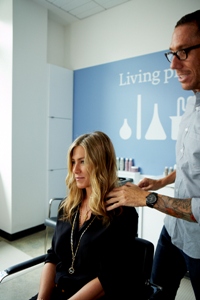 For more than two decades, most women around the world have lusted after Jennifer Aniston's flawless golden hair. But besides a pricey visit to her long time stylist Chis McMillan, there wasn't much we could do to copy her near perfect style. That is, until now.
Aniston has signed on as co-owner and spokesperson for
Living Proof
-- the hi-tech hair care line formulated by MIT scientists -- where she'll be involved in everything from predicting trends to packaging design. That's right, we finally know which shampoo and conditioner keeps her hair so gorgeous.
The former friends star explains: "What caught my attention about Living Proof is the company's unique approach to hair care -- using scientific technologies to offer women actual proof in a bottle rather than hoping for results," Aniston said. "Over the years, my hair has been subjected to everything ... blow dryers, flatirons, curling irons, color, extensions, you name it. My hair has taken a serious beating. After using these products, I felt like I finally discovered a solution that works every day. I could not be more excited to share Living Proof with the world."
According to "The Wall Street Journal," Aniston tested the products with the help of her longtime hairstylist Chris McMillan while filming an upcoming flick in humid weather in North Carolina, and she loved the results. As with all things Aniston, we're sure that women everywhere will be clamoring for the products.