Posted by Total Beauty 01/26/12 at 04:37PM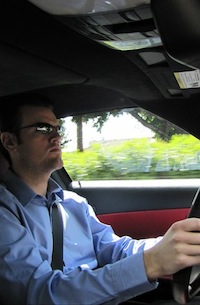 My husband is an automotive journalist (yep, what I do with beauty, he does with cars), and as such he spends a lot of time behind the wheel. And I spend a lot of time nagging him about wearing sunscreen behind that wheel.
For some reason, he won't trust me (the beauty editor) when I say that UV rays can seep through car windows. He insists they're tinted and therefore, he's fully protected.
So I'm bringing in the big guns: Dr. Arielle Kauvar, founder of
New York Laser & Skin Care
. Now the doc can tell us once and for all, is my skin safe in the car?
"Not if you are in a car with windows," Kauvar says. "UVB rays (the burning or 'tanning' rays) are filtered out by glass but UVA (the 'aging' rays) are not. If you are in a car without sunscreen, you are getting continuous exposure to UVA rays, which are the main culprit in aging our skin (causing brown spots, wrinkles, and skin sagging). In addition, UVA rays also cause melanoma and non-melanoma skin cancer."
Finally, proof that I'm right! Er, I mean, sound reasoning from a professional that will hopefully convince my husband to stay sun safe.