Posted by Total Beauty 10/24/12 at 04:00PM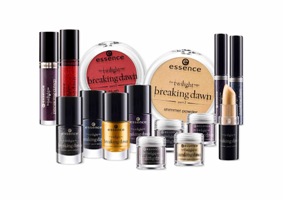 We're going to go out on a limb and say, even if you're not a Twi-hard, you'll enjoy Essence Cosmetics' new vampy makeup collection.
The "Twilight"-themed set has everything you need to look like Kristen Stewart's body double -- which, vampire or not, translates to stunning. Although this launch may scream tween everything from this 15 piece collection is adult-friendly.
Take for example, the deep red lip gloss and sparkling gold highlighter, which could have come straight from a fancy department store brand. So if you're on the hunt for a trendy statement lip color or yes, just a gift for your Edward-obsessed niece, check out this kit at your nearest Ulta starting in November (the final "Twilight" film hits theaters November 16th).