Posted by Cinya Burton 10/22/21 at 12:30AM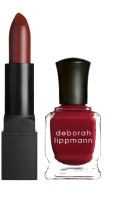 Few things pull a look together like freshly manicured hands that also match your lipstick -- it just screams perfectly polished (no pun intended).
Fortunately for us, putting together this matching ensemble just got a whole lot easier, thanks to nail guru Deborah Lippmann. She's launched two matching lip and nail duets for $38 each (available now). The My Touch My Kiss set has a nude-mauve lipstick with an identical sheer beige polish, while the Love Notes pair contains a classic red lipstick and lacquer -- ideal for re-creating that retro Betty Draper style. Being that Lippmann consistently guesses the next big trends in nails, we suggest you jump on this matching bandwagon ASAP.