Posted by Total Beauty 04/12/12 at 04:09PM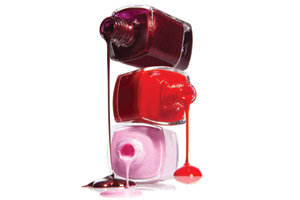 Beauty obsessed women in California beware; a Department of Toxic Substances Control report reveals that select nail polishes "commonly" found in salons that are said to be toxic-free, are anything but.
According to a story from the AP, the new study found mislabeled polishes to contain chemicals that "have the potential to harm thousands of women who work in more than 48,000 nail salons in California and their customers."
The agency says that the false claims violate a law that requires full disclosure of harmful chemicals. Undercover investigators randomly tested 25 brands that claimed to be free of toluene, dibutyl phthalate (DBP) and formaldehyde, sometimes referred to as the "toxic trio" (exposure to which can cause illness).
Among the polishes that were tested and subsequently deemed "mislabeled" were: Sation 99 basecoat, Sation 53 red-pink nail color, Dare to Wear nail lacquer, Chelsea 650 Baby's Breath Nail Lacquer, New York Summer Nail Color, Paris Spicy 298 nail lacquer, Sunshine nail lacquer, Cacie Light Free Gel Basecoat, Cacie Sun Protection Topcoat, Golden Girl Topcoat, Nail Art Top-N-Seal and High Gloss Topcoat.