Posted by Total Beauty 09/11/12 at 10:00AM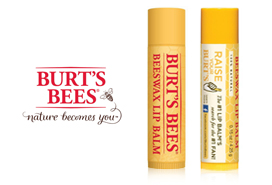 Are you a fan of Burt's Bees Lip Balm? Prove it -- by entering their contest, that is.

Burt's Bees is launching the "Raise Your Burt's" Facebook contest to find the No. 1 Burt's Bees fan. How do you enter?

1. Post a photo of yourself into one of the eight categories on Burt's Bees Facebook page: Cutest animal, youngest, best kiss face, most one with nature, globe-trotter, most socially conscious, most original, or most worn out tube.

2. Then, fans will vote on their favorite photos in each category.

3. If you're chosen as a semi-finalist, you'll create a video and Burt's Bees will choose three finalists.

4. Finally, fans will vote on "The Natural Champion."

If you're a semifinalist you could win 100 personalized lip balms (that should last you awhile!). And finalists have the chance to be featured in an upcoming ad campaign, plus the No. 1 fan wins a weekend getaway with pampering, products, and a private concert for herself and three friends!

Submissions are being accepted now, so if you're devoted to your tube or tin of Burt's, send in your photo and start rallying your friends to vote. May the best Bee win.