Posted by Cinya Burton 09/20/12 at 10:00AM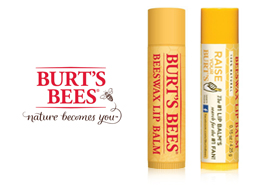 Did you know around 20 people purchase a Beeswax Lip Balm every minute, which adds up to about 30,000 lip balms per day and over 11 million per year?

Crazy, right? Those stats explain why it's the best-selling lip balm in America. Not that you'd really need these numbers to figure that out. I bet a quick purse check among your friends would reveal most are carrying around that small yellow tube.

Perhaps it's the 100 percent natural ingredients of nourishing botanical and tingly peppermint oils. Whatever the reason, the balm has quickly become a cult classic.

Do you adore Burt's Bees? Prove it. Burt's Bees launched the Raise Your Burt's Facebook contest to find the No. 1 Burt's Bees fan. Here's all you need to do to enter:

1. Post a photo of yourself into one of the eight categories on the Raise Your Burt's Facebook app on the Burt's Bees Facebook page: Cutest Animal, Youngest, Best Kiss Face, Most One with Nature, Globe-trotter, Most Socially Conscious, Most Original, or Most Worn-out Tube.

2. Then, fans will vote on their favorite photos in each category.

3. If you're chosen as one of the 40 semi-finalists, you'll create a video and Burt's Bees will choose three finalists.

4. Finally, fans will vote on "The Natural Champion."

If you're one of the 40 semi-finalists, you'll receive 100 personalized lip balms (that should last you awhile). And finalists have the chance to be featured in an upcoming ad campaign, plus the No. 1 fan wins a weekend getaway with pampering, products, and a private concert for himself or herself and three friends!

Submissions are being accepted until October 2 at 11:59:59 p.m. eastern time, so if you're devoted to your tube of Burt's, submit your photo and start rallying your friends to vote. Follow contest updates on the Burt's Bees Facebook page or on Twitter with the #RaiseYourBurts hashtag. May the best Bee win.