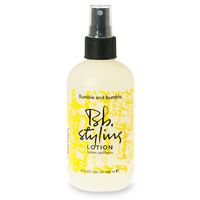 worth the investment

this is on the higher end of the drugstore price range (but still conveninently available at target!) not surprising, since i was first introduced to the b&b product line at a pricey downtown sf salon (which i sadly can no longer afford). my "master stylist" used to add a couple of spritzes while styling my hair and my tresses always looked amazing after he finished blow-drying and flat ironing. n...read moreow i know it was a combo of his magic touch plus this magic product since i finally came close to replicating the look at home after using this styling lotion! a few spritzes before flat ironing and my hair is perfectly stick straight and devoid of waves, while ends look healthy - not dry and damaged like they usually look after being hit with some heat. this spray also worked with a curling iron, leaving me with big bouncy curls that still felt soft to the touch. it also has a nice light scent that i like. i'll try to use it sparingly but it's worth the splurge!

GREAT!

I actually have the Styling Creme, not the lotion. My hair is super dry on the ends, so that's where I use this. I can put it in and put my hair in a bun, then take it out. My hair is shiny, and silky smooth. Love it!

Not for me

I love bumble and bumble products but this one simply did not work for me. While I am sure a hair stylist can master using it, every time I tried it left my hair feeling gross. My hair felt hard and unmanageable. It was sticky and not workable. I am using pretty good with hair products, this is just one I would not recommend.

Back
to top